Trailer Boom Lift
Traction device:
Traction and dual brake systems, one is a mechanical system, and the other is an electric brake.
Diesel drive:
Lifting drive is optional, power supply, battery, gasoline engine or dual power supply (such as: power supply plus diesel drive).
Outrigger:
Before the equipment works, four outriggers need to be opened to ensure safe and stable high-altitude operations.
    4.Level sensor:
If the ground is not flat, the level sensor light will turn red; the green light indicates that it is at the same level and it can work normally.
Emergency lowering valve:
In the event of a power failure, the emergency lowering valve can be used to land safely.
Advantage of Trailing boom lift
Move convenience.
Using new high-quality steel, high strength, light weight, fast erection
Working platform can up, down, extend and reverse, easy to reach barriers workplace. It is the ideal high-altitude operations equipment.
Power form automobile engine or car battery original DC power, do not need external power.
According to the individual requirements, we can install emergency lowering device in case of a power outage, balancing valves,safety devices to prevent aerial lift platform overload, leakage protection devices lack of protection device to prevent safety explosion-proof equipment hydraulic line rupture .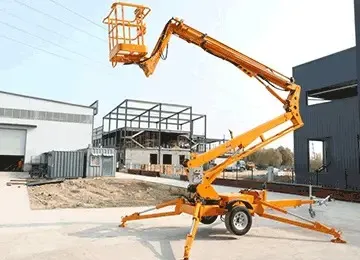 Comments or leave us a message:
More Posts You May Find Interesting