Vertical Cargo Lift Guide Rail Platform
Vertical cargo lift is a type of lifting mechanical equipment. The lifting technique for a Vertical cargo lift is driven by a hydraulic pump stop, so it is also called a hydraulic lifting freight escalator. Vertical cargo takes you are widely used to travel goods between flooring surfaces of buildings. Exclusive hydraulic elevator products are mainly used to handle goods way up and down between various working flooring surfaces; three-dimensional garages and underground garages are widely-used to lift autos between floors. Typically the hydraulic system of the merchandise is prepared with anti-falling and overload safety defense devices, and functioning buttons can be set on each floor and the work surface of the lifting program to realize multi-point control. The Vertical cargo lift has a solid composition, large carrying capacity, stable lifting, and simple and convenient installation, repairs, and maintenance, it is an economical and practical low-floor escalator to replace the ideal cargo selling equipment. Vertical cargo lifts are often used in supermarkets, factories, and warehouses to travel goods.
A Vertical cargo lift can be customized.
Vertical cargo lift's volt, lifting height, packing weight, and program size can be custom-made in accordance with customer needs. How big is the table is custom-made in line with the goods being transported and on-site installation? The regular ways of landing gates are one-way out-and-in, through-in and out and about, 90° in and out, or three-way. Entry and quit are determined in line with the on-site installation surroundings and customer requirements. Beyond the countertop guardrail door, the equipment can even be equipped with linked rolling shutter release doors, mechanical gates, and computerized gates, which can improve the safety of the equipment.
Details of vertical cargo lift
1 ) Vertical cargo lift has a limit switch. (The limit switch can make the cargo lift stop at the complete position. )
installment payments on your Vertical cargo lift have brought in the seal ring. (The oil cylinder basically leaking)
3. Vertical cargo lift has a high-quality checkered board. (Non-slip)
Typically the vertical cargo lift has its own advantages.
1. Low power consumption
If the vertical cargo lift descends, it is driven by stress developed by a unique weight, which greatly saves energy.
2. Flexible configuration
In accordance with different installation surroundings and use requirements, the table size, load, and entry-and-exit directions can be customized.
3. Security
Dedicated chain to ensure safe working out with of the gets elevator.
4. No machine room on the top
Vertical cargo lift has no counterweight independently, occupies a tiny space, and has low requirements for civil construction.
5. High-quality hydraulic cylinders and pumping stations
6. Low failure rate
With the innovative hydraulic system and good control method, the failure rate of elevator functioning can be reduced to a bare minimum.
7. Simple maintenance and long service life.
The consumption of vertical cargo lift.
Vertical cargo lifts are widely-used for the long travel of goods between various working flooring surfaces, and the working out of cars between floors in 3d garages and subway garages. With it is a solid structure, large carrying capacity, secure lifting, simple and convenient installation, and maintenance, the Vertical cargo lift is surely an economical and suited low-floor elevator to switch the ideal cargo conveying equipment.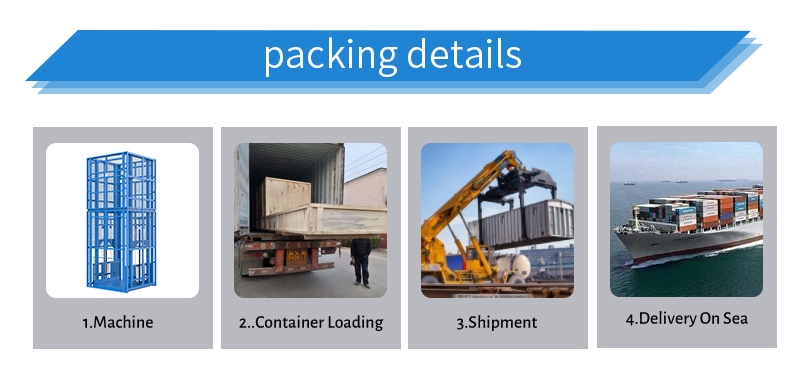 We are a professional manufacturer of vertical cargo lifts.
Our company is a professional manufacturer of vertical cargo lift. The company is located in "China's hometown of hydraulic lifting platforms-Shandong•Jiyang". The factory has advanced production equipment, a strong technical force, advanced and reasonable technological processes, and complete testing methods. Constantly developing new products, after years of development, the company has formed a group company with hydraulic elevators, traction elevators, sightseeing elevators, elevators, lifting platforms, lifting stages, lifting freight elevators, and boarding bridges as the leading industries.
Comments or leave us a message:
More Posts You May Find Interesting