What are the characteristics of the trailer boom lift
1、New full-hydraulic self-propelled special chassis
Developed with completely independent intellectual property rights of the self-propelled aerial work platform car, using the integration of electromechanical and hydraulic, reliability design and computer-aided design technology, successfully developed a fully hydraulic drive, self-propelled special chassis, breaking the previous domestic aerial work platform car can only use the car or crane chassis modified design restrictions.
2、Driving with load, good operational stability
The chassis structure breaks through the traditional design theory and method, and reduces the center of gravity shift by optimizing the overall layout and load distribution on the platform. It adopts unique large angle backward hinge point structure and reasonably sets a variety of counterweight modules to effectively balance the working moment. The use of H-type variable-section composite box beam cutaway frame and high-load solid rubber tires increases the overall rigidity of the chassis, ensures the stability of the whole machine driving and operating process, and realizes the function of aerial work platform truck driving with load.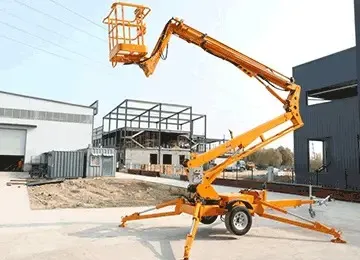 Comments or leave us a message:
More Posts You May Find Interesting